Just a quick note for everyone who is wondering, bazaar hosting on Launchpad is horrifyingly slow this weekend, so, "it's not just you".
Seems the devs are working on it, and part of the problem has been fixed, but it's still not there yet.
Good thing it's a distributed version control system, huh?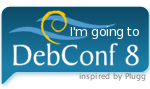 And also, I want to point out the logo design was made by a good friend of mine, Lisandro Martinez Basabilvaso.
Now, if they would only fix his name in the winner announcements...
It occurred to me that many people couldn't attend the last bzr sprint, and having missed out on other conferences myself, I know how discouraging it can be left out of the action   🙂
Anyway, a great wiki page was setup with everything that was discussed, and who's going to work on what, so feel free to sign up yourself to the bits you are interested, and get in touch with the rest of the folks to coordinate efforts.
After quite some downtime due to excessive traffic and load to the server to keep processing all the data we needed, Felipe Lerena finally managed to put some spare time into migrating it to a new server (provided by Mitch Mahan, thanks!) and launched UbuntuStats back into the intrawebs.
It's up back again with some minor tweaks, and showing off the newly created "brainstorm" site feeds.
If everything goes well, we're planning on building on top of it as previously planned, to expand the statistics gathered, and start showing trends in different areas, and cleaning up the code so other people can contribute code into the project as well as providing public snapshots of the database.
So, three cheers for Felipe, and, as always, any bugs or feature requests are welcome in Launchpad.
So, the sprint is over.
It's been a very long week, and looking back at it it seems impossible to me that so many things happened and got done in just 5 days.
This has been the first bazaar sprint I've attended, so my expectations weren't based on anything else than my imagination.
Basically, I thought I would meet very intelligent people who had a a tons of experience with the project, and that knew exactly what had to be done and how to do it.
It wasn't quite like that.
There where 16 of us in total, which is a pretty large crowd for such a specific piece of software like versioning control, and everyone was just embarrassingly smart. What was a surprise was how well us community folks where integrated into the project as a whole, on the decision making aspects and on even on taking responsibility for ideas being put in place appropriately. Everyone was extremely helpful with just about anything, and I've personally learned so much in such a small time frame, I can't even begin to process it.
Canonical sponsored all our travel and accommodation costs, to the extent that it didn't cost me a single dollar to go across half the world and spend some time discussing, coding, and drinking beer with the same people I hang out on IRC. The four start hotel overlooking the Thames was a bit over the top, but, as you can expect, we didn't complain. I also got to meet people from Launchpad and Ubuntu with whom I've been interacting for the past two years. Many concepts one has over what's commonly denominated "low bandwidth communication" (eg. IRC or email) change a fair bit with some face to face time.
While really tired, I'm really happy with how everything went, and am really excited to start work (and finish!) on some of the many areas I volunteered in.
I suppose this is just a way of thanking everyone for making it possible, and for the hospitality which we where treated with.
beuno@beuno-laptop:~$ bzr rocks
P.S. I'm going to catch up on all the previous days of the sprint, just need some sleep  😀
Just over a week ago, Bazaar got approved as an official GNU project, and it seems some big GNU projects like emacs are thinking about converting to bzr.
Exciting times to be working on bzr!
Second day is over (I'm a bit delayed on reporting, yesterday was exhausting).
The current disussions are currently being dumped into the wiki in http://bazaar-vcs.org/SprintLondonMarch08/Brainstorms, so today I'm just going to post some pictures.

This is where we eat breakfast 😀

That would be the Canonical building

Canonical!

Brainstorming

Deciding which are the most important Adoption Blockers

Lunch!

Coding time!
Ok, so the first day of the sprint is over.
It started much earlier than I'm used to (9am sharp), and I believe we left around 7pm, mainly because we needed food (and beer) pretty badly.
Meeting everyone has been absolutely great, and people are just very friendly and helpful in all kinds of ways.
The hotel Canonical has put us in is overwhelmingly nice, the offices have a very friendy environment, and the view of London is priceless.
A lot of brainstorming was done today, and we tried to start from the top by dumping all the adoptions blockers we perceive, and prioritizing them by importance.
Then we split up into two groups to discuss two major blockers, IDE Integration and Network Performance.
Both discussions seemed to be quite productive and triggered more than a few patches sent to be merged.
For a general sum up of the day, the IDE Integration meeting basically went around adding XML output to bzr's core (it's already available as a plugin) , as it seems to be the best language-agnostic approach. Some discussion about performance was delayed to a further discussion.
The network performance details escape me a bit, but the general idea was that the smart protocol has much room to improve, and it didn't seem to need a terrible amount of work, it just needs to be done.
And finally, unifying under one storage format was heavily discussed, with a few approaches available which would reduce disk space and improve performance quite a bit.
Not sure if it's of any use to anyone not present, but here are the pictures Aaron Bentley took of the whiteboards:

Adoption blockers brainstorm

After we voted on what was the most important issues to us

Adoption blockers continued

Network performance issues

IDE's Integration
The Bazaar sprint started a few hours ago, more on this later  😀
Pages
Categories
Blogroll
Archive
Meta